Camp Oasis is an exciting and magical summer camp experience for kids who love sports and outdoor adventure. Our camp offers a wide range of activities, from water sports to wilderness exploration, all guided by our experienced staff to ensure a safe and unforgettable experience. The name "Oasis" signifies a place of refuge and refreshment, where campers can escape the stresses of daily life and immerse themselves in fun and adventure.

WHAT: Designed to help players learn and improve basic soccer skills
WHEN: 5-Day Camps (June 26-30, July 10-14, July 17-21, July 24-31)
AGES: 4-14 years old (boys and girls)
LEVEL: All skills and ability
TUITION: $99/day ($495 – Full Week)
TUITION INCLUDES: Check below for all details of what is included in tuition package
All passes must be paid for full session weeks (5-days)
Please note you will be re-directed to complete registration on DaySmart, our registration system. If you have not registered a player before you will be prompted to create an account before signing up for camp or joining a waitlist.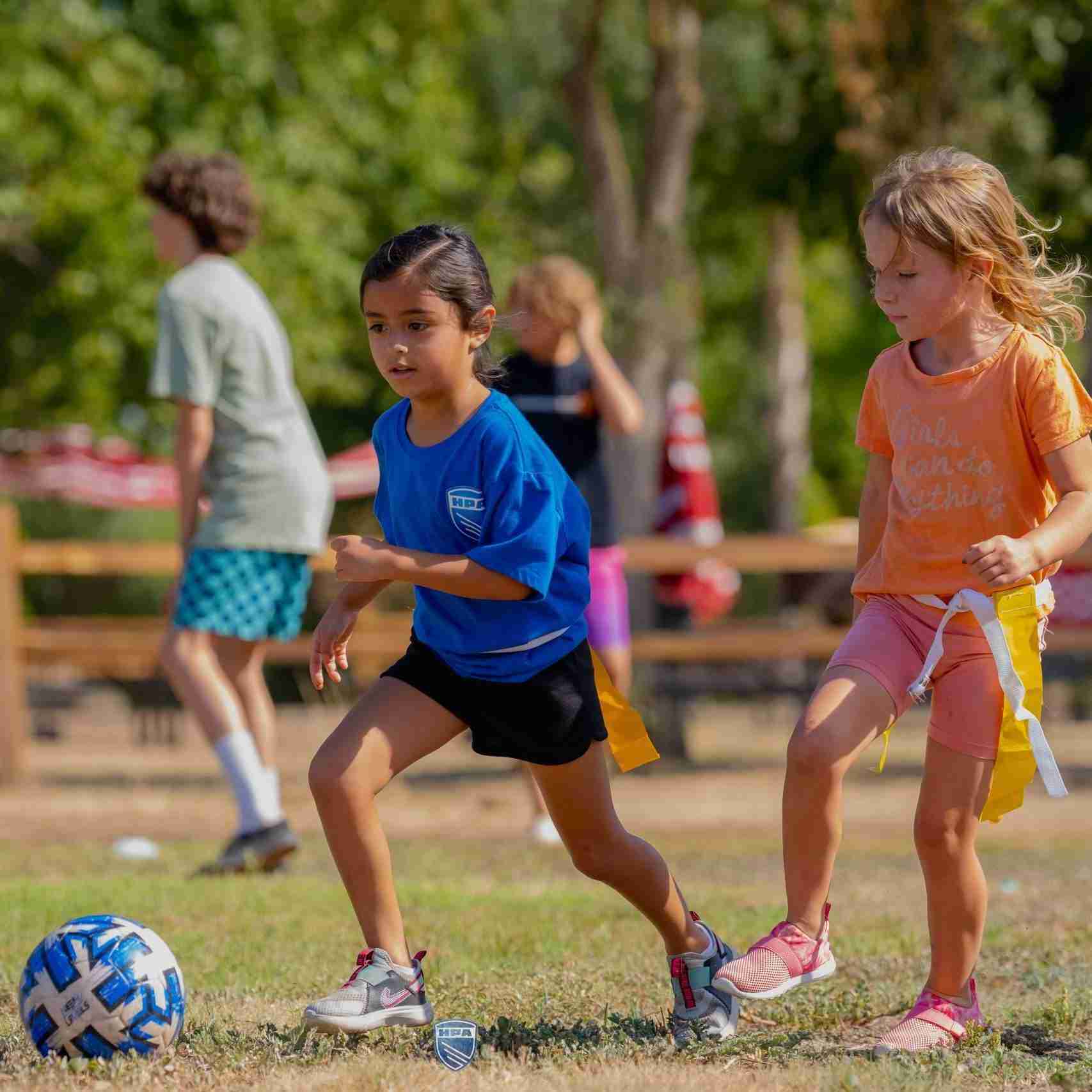 Available camps – JOIN WAITLIST
Camp Tuition Includes:
Supervision: Staff members are strategically placed throughout the camp to provide optimal supervision and participate in all activities
Instruction: Trained & Certified HPA x Wild Water Adventure Camp Staff Day campers:
One (1) Official Camp T-Shirt
Camper Digital Photo
5-Day Wild Water Adventures Camp Access Pass
Life Vest for water activities // Approved and provided by Wild Waters Adventures
Lunch (Meal includes beverage + side) – Vegetarian options will be available
Dessert (Ice Cream, OtterPopp, etc.)
Exclusive prizes awarded to select players at the conclusion of camp
Camp Certification of Completion
Extended care is available for additional costs.
Access to the park: Camper will have access to the park through camp experience. Campers may stay after camp ends to enjoy the rest of the day during Wild Water Business Hours. Check camper guide on the process on this process.
Ratio: To ensure the quality of our Programs, all Camps are limited to a minimum of 15:2 to 10:1 players to coach. The ratio depends on the program.
Groupings: Campers are grouped by age, ability, and experience
Equipment Needed: All campers must bring towel, swim wear, athletic shorts, athletic shirt, athletic shoes, and a water bottle. A further list of 'recommended items' will be in the Information Packet.
Facility: Wild Water Adventure Park
Medical Protocol: In case of an emergency, campers will be transported to the nearest hospital
Early Drop Off & Extended Care available.
Day Camp Hours: 9:00am-3:00pm
Check-In & Out Location: TBA
Check-in: Check-in starts 15 minutes before camp start time
Meals: Lunch and snacks are provided. Please bring a packed lunch.
A closing ceremony will take place approximately 30 minutes prior to camp check-out on the last day. Parents are invited to attend! Departure immediately follows the closing ceremony
**ALL CAMPERS CAN STAY AFTER CAMP COMPLETES DAILY AND ACCESS WILD WATER ADVENTURE RIDES UNTIL 6PM AT NO ADDITIONAL COSTS. THEY MUST HAVE A PARENT/GUARDIAN PRESENT AS THIS IS NOT PART OF THE CAMP. PARENTS/GUARDIANS MUST PURCHASE TICKET SEPARATELY THROUGH WILD WATERS ADVENTURE.
DROP OFF
Camp Oasis: 9-9:30a
Magic Cove: 7:30a-8a
Pick Up
Camp Oasis: 2:30p-3:00p
Magic Cove: 4:45p-5:00p
Extended care available:
Camp Oasis AM Pass: 8a-9a
Camp Oasis PM Pass: 3p-5a
Each Camper will receive lunch & snack for the Full Week (Meal includes beverage)
*Food will be provided by chefs at Wild Waters Adventure. Vegetarian options will be available.
Looking to see what other experience we have? Check out Magic Cove!
interested in bringing your team/school/institution?
Our Camps are the perfect place to host group activities in the Central Valley area. We work with all levels of group sizes. From a teams to schools, we are ready for your group to experience legendary!

Send an email to our partnership specialist, Jesus Garcia, to jesus@hpanation.com to set up a call for us to learn how we can make the camp experience like never before!
THANK YOU TO OUR AMAZING SPONSORS FOR SUPPORTING OUR CAMPS
Frequently asked questions
About wild waters adventures
official enrichment vendor of the following:
Are you currently enlisted on one of the institutions below? Select the institution in which you are apart of to learn on how to enroll in our programs..